Railroad Dining Options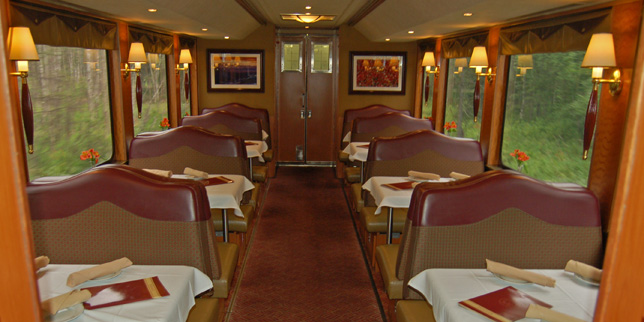 Alaska Railroad Dining Options
Your choices for dining on the train will vary somewhat with which route you are traveling on, as well as whether you are traveling on the Alaska Railroad or on a private dome car. Scrumptious food and beverages (including beer, wine and cocktails) are available for purchase on every route and class of service offered on AlaskaTrain.com. Passengers who upgrade to the Alaska Railroad GoldStar Dome service will enjoy all-inclusive meals on board, see more details below. Remember all train options are now cashless so be sure to bring a credit or debit card.
Guests who are traveling on the Denali Star route between Anchorage, Talkeetna, Denali and Fairbanks in either the Alaska Railroad's Adventure Class or the GoldStar Domes can choose from Sit Down Dining in the lower level GoldStar dining room, or simpler fare in the Wilderness Café dining car. Breakfast, lunch and dinner are served on both the northbound and southbound trains.
Alaska Railroad passengers on the Coastal Classic route between Anchorage and Seward can also choose between Sit Down Dining and the Wildness Café. Breakfast is served on the southbound leg from Anchorage to Seward, and Dinner is available on the return evening trip from Seward back to Anchorage.
Dining on the Glacier Discovery Route is limited to the Wilderness Café Grab 'N Go items described below.
Sit Down Dining on the Alaska Railroad                 
Both Adventure Class and GoldStar passengers traveling on either the Denali Star or Coastal Classic may choose a full service dining experience in the lower level of the GoldStar dome. Tables generally accommodate parties of four, and small parties are typically combined with others during busy periods. The railroad prides itself in the freshly prepared cuisine served on board, and strives to include local Alaskan ingredients in many of its dishes.
Breakfast features specialties such as the Aurora Breakfast, Country Starter and Stuffed French Toast. The lunch menu has a nice selection of items such as the Healy Miner's Lunch, Reindeer Penne Bolognese or the Grilled Chicken Caesar Wrap. Dinner entrees include favorites such as the Slow Braised Pot Roast, Arctic Cod, and Midnight Sun Meatballs, with salad and soup options also available. Of course a tasty selection of desserts and after diner drinks are available to complete your Alaska dining experience. Meals are included for GoldStar passengers, while Adventure Class passengers who choose the Sit Down Dining option should expect to pay $9 to $14 for breakfast items, $13 to $17 for lunch, and $18 to $22 for dinner selections.
ARR GoldStar Dome Service Meals
| Trip | Included Meals |
| --- | --- |
| Anchorage to Denali Park | Breakfast, Lunch |
| Anchorage to Fairbanks | Breakfast, Lunch, Dinner |
| Anchorage to Seward | Breakfast |
| Anchorage to Talkeetna | Breakfast |
| Denali Park to Anchorage | Lunch, Dinner |
| Denali Park to Fairbanks | Dinner |
| Denali Park to Talkeetna | Lunch |
| Fairbanks to Anchorage | Breakfast, Lunch, Dinner |
| Fairbanks to Denali Park | Breakfast |
| Fairbanks to Talkeetna | Breakfast, Lunch |
| Seward to Anchorage | Dinner |
| Talkeetna to Anchorage | Dinner |
| Talkeetna to Denali Park | Lunch |
| Talkeetna to Fairbanks | Lunch, Dinner |
Beginning in 2015, passengers who upgrade to the Alaska Railroad's GoldStar Dome service will enjoy all-inclusive meals appropriate to the time of day. You can see a full list of included meals by clicking on the blue bar above. Guests may choose from any of the first-class meals offered on the Alaska Railroad's onboard menu. In addition, GoldStar guests will receive two adult beverages per trip including beer, wine and cocktails, as well as unlimited non-alcoholic drinks.  All meals include an entrée, beverages and gratuity.  In addition, lunch is served with a soup, while dinner also includes soup OR salad as well as a dessert selection.
Here are some samples of the sit down Alaska Railroad Denali Star menus for breakfast, lunch, and dinner, as well as the Coastal Classic Breakfast or Coastal Classic Dinner.
Wilderness Café on the Alaska Railroad
The Wilderness Café is the place for simpler fare called Grab 'N Go items and is available on the Denali Star, Coastal Classic and is the only option on the Glacier Discovery.  Breakfast items range for $3 to $8, with items such as breakfast burritos, muffins, hot and cold cereal and fresh fruit. The all-day menu includes salads, sandwiches, cheese nachos, pretzels and fruit and cheese trays. Expect to pay $6 to $12 for these selections. You will also find tasty treats like ice cream novelties, fresh baked cookies and brownies, as well as a wide selection of alcoholic and nonalcoholic beverages.
Here is a sample of the Grab 'N Go menu.
Wilderness Express Dining Options
Passengers who book the Wilderness Express private dome cars between Anchorage, Talkeetna, Denali or Fairbanks and choose to dine onboard will do so in the Wilderness Express dining room located on the lower level of each rail car. Breakfast choices range from simple to hearty, with choices such as Wilderness Cream of Barley, Mountain Blueberry Pancakes, and the Alaska Seafood Special scramble, with prices ranging from $10 to $15. For lunch, try an Alaskan favorite like the Aleutian Seafood Pasta Salad, a Caesar Salad with grilled shrimp or a tasty French Dip sandwich with prices from $10 to $15. Last, but certainly not least… the dinner menu offers mouth watering creations such as Prime Rib, Herb Roasted Chicken and Halibut Supreme. Dinner entrees prices range from $16 to $29, and appetizers, side salads, gluten free and vegetarian options are available. You will also find a nice selection of premium wines, Alaskan beers and specialty cocktails. Be sure to save some room for a scrumptious dessert like a Brownie Extraordinaire, or an after diner drink favorite like the Moose Kiss which offers the perfect balance of Irish Cream, Kahlua and coffee.
Here is a sample of the Wilderness Express Menu.
McKinley Explorer Dining Options
The McKinley Explorer dome rail cars offer service between Anchorage, Talkeetna and Denali Park on a separate train, with a slightly different schedule than the Denali Star. Similar to the GoldStar and Wilderness Express, the McKinley Explorer features a fabulous dining room on the lower level. For breakfast you can choose from simple items like a Bagel Breakfast Sandwich, or hearty selections like Alaskan King Crab Cake Benedict or a Reindeer Sausage Breakfast Burrito. Expect to pay $9 to $17 for breakfast and $12 to $15 for lunch choices such as Wild Alaskan Smoked Salmon Chowder or the Seafood Salad Sandwich featuring Alaskan crab. Ask your server for vegetarian options, specialty drinks and awesome desserts like the Salted Caramel Brownie Sundae. You will note that there is no dinner service since the McKinley Explorer arrives in Denali Park northbound at 4:40pm or southbound into Anchorage by 5:10pm.
Here are samples of the McKinley Explorer menus for breakfast, lunch and desserts, as well as snacks and treats available in upper level dome after 1pm.